Domestic Helper Annual Leave and Holidays
Domestic Helper Annual Leave and Holidays
What types of domestic helper holidays are there?
In Hong Kong, foreign domestic helpers are entitled to leaves under the Employment Ordinance, including:
rest days,
statutory holidays,
paid annual leave, and
vacation leave.
Rest days
Every employer must grant their domestic helper a rest day for a continuous period of at least 24 hours every 7 days.

Rest days do not have to be regular, i.e. the same day every week, but a domestic helper should be notified the dates of her rest days before the beginning of each month. We advise employers to discuss the arrangements when they pay the wages so that there is one specific monthly moment when issues like these are discussed.

Most employers grant Sundays as the weekly rest days because that is also when they are off work. Domestic helpers usually prefer to be off on Sundays as well, as there are many activities scheduled all over Hong Kong on Sundays. They usually go to church or to the mosque, they gather to have lunch together, they remit money home, they do some shopping. Sunday is a very busy day in Hong Kong Central district for Filipino domestic helpers, and in Causeway Bay district for Indonesian domestic helpers.
Can domestic helpers work on their rest days?
A common practice of many employers in Hong Kong is to require their domestic helper to work on a rest day to take care of the family and to pay her more salary for this. It should be noted that this is illegal according to the Labour Department. An employer must not compel an employee to work on a rest day except in the event of a breakdown of machinery or in any other unforeseen emergency.

If you really need your domestic helper to work on her day off, you have to give her a substituted day off either 30 days before or after the original day off. We also remind employers that their helpers should not perform any duties on their rest days such as cooking breakfast before she leaves home or doing the dishes when she comes home. A domestic helper may perform these duties voluntarily, but do discuss this with her to ensure that she really is doing it out of her own will and not because she feels obliged to do it as she is living at the same address.

Rest days under special circumstances
In special cases, such as major protests and epidemics, domestic helpers may often need to stay at their employer's place during their rest days to avoid getting affected, given that they are not allowed to live out. Please be reminded that in such a situation, you should not ask her to work for you as well for a full 24 hours as she has the right to enjoy her rest period.


See also: Domestic Helper Rest Days
Statutory holidays and general holidays
Statutory holidays are different from general holidays. There are 12 statutory holidays and 17 general holidays in Hong Kong. Employers only need to give statutory holidays to domestic workers, but we encourage you to give general holidays to your domestic worker. This is commonly referred to as the 'red calendar'.

The 12 statutory holidays are:
January 1st
The first, second and third day of the Lunar New Year
Ching Ming Festival
May 1st
Tuen Ng Festival
July 1st
The day after the Mid-Autumn Festival
October 1st
Chung Yeung Festival
Chinese Winter Solstice Festival or Christmas (to be decided by the employer)
For the exact dates for this year, please refer to Dometic Helper Statutory Holidays 2020.


These are paid holidays unless the helper has worked for you for less than 3 months preceding the statutory holiday. In that case, it is up to the employer to decide on whether the holiday is paid or unpaid. You do not have to give your helper a day off on public holidays, but you are free to do so. When you choose to give public holidays, domestic helpers will usually say that you follow the "red calendar" and they will definitely be grateful that you grant them a few extra days a year.

If you like your helper to work on a statutory holiday, you must give your helper a 48-hours notice and offer her an alternative holiday either 60 days before or after the statutory holiday. The law prohibits employers from making a payment of any amount in lieu of the statutory holiday. Also, according to Hong Kong law, in case a statutory holiday falls on a rest day, the domestic helper should be given a holiday on the day following the rest day.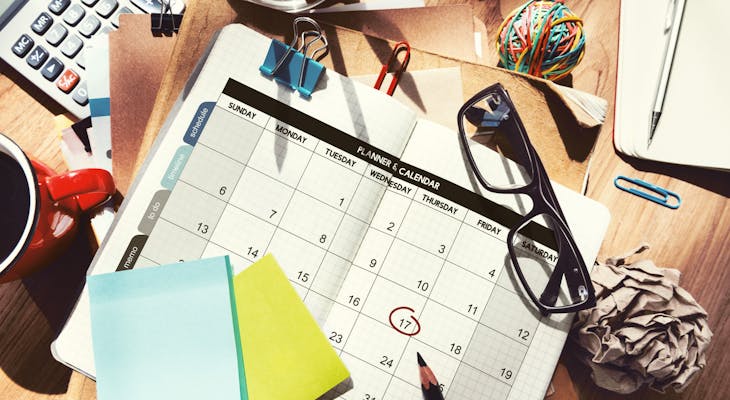 Annual leave
The number of annual days that a helper should receive depends on the years she has worked for you. A domestic worker is entitled to a paid annual leave after every 12 months with the same employer. The first 2 years, the number of holidays are 7, after which one more day is added, with the maximum days capped at 14.

To be more clear, the helper is entitled to 7 days on her first year of employment, 7 days on the second one, 8 days on the third one, 9 days on the fourth one, 10 days on the fifth one, and so on until it reaches 14 days.

A helper should take her paid annual leave within the 12 months after they have been granted after consultation with the employer and confirmed by a written notice that is given at least 14 days in advance. Also, workers cannot accept payment in lieu of annual leave, unless the length of the leave is more than 10 days.

If the worker is terminated before she is entitled to take the annual leave but has already worked for 3 months under the contract, the domestic worker is still entitled to the paid annual leave. The only exception, however, is that if the employee is dismissed by summary dismissal, that means dismissal without notice due to serious misconduct.

Check out this infographic for 6 things to note about paid annual leave: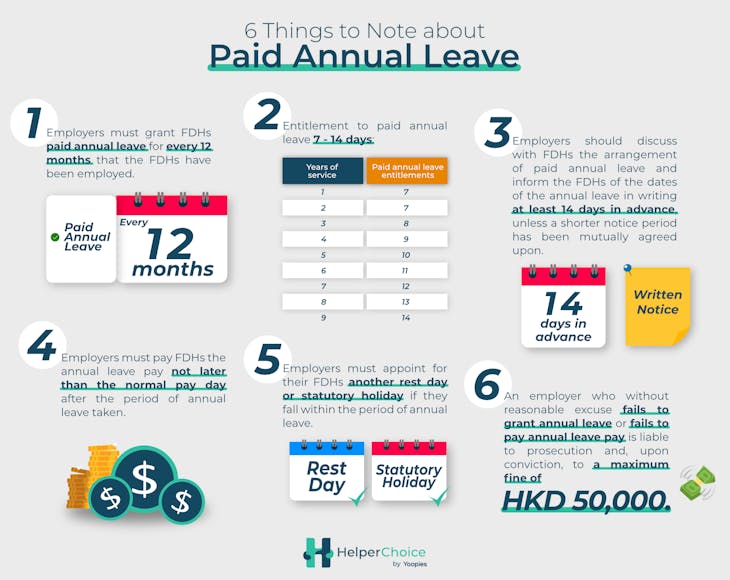 Vacation leave (home leave)
At the end of each contract, the employer must provide 'vacation leave' of at least 7 days on top of the annual leave while the helper waits for her new visa.

The Immigration Department requires domestic helpers to return to their home country before a new visa is issued and the new contract commences. An employer who has filed for an extension of stay with immigration should note that this vacation leave will then have to be provided within 365 days when the domestic helper has to leave Hong Kong due to immigration arrangements.

However, whether this is paid or unpaid vacation leave depends on the terms agreed upon in Clause 13 of the standard employment contract. If employers opted for unpaid vacation leave at the time of signing the contracts, they may decide to give their helper paid leave, but if you opted for paid vacation, you must follow this as stated in the contract and can't change your mind. In case of vacation leave, some employers ask their helpers to take a medical checkup before flying back to Hong Kong.
You might also be interested in: