Criteria to Hire a Maid in Singapore
Criteria to Hire a Maid in Singapore
Do I qualify to hire a foreign domestic worker (FDW)?
Before you decide to hire an FDW and start the orientation process, you need to make sure that you're eligible to be an employer under Singaporean laws.

You qualify to be an employer if you :
are 21 years old and above;
are not going through bankruptcy; and
have the mental capacity (i.e. diagnosed Alzheimer, dementia, schizophrenia, etc.) to fully understand their role and duties as an employer.

Remember that as an employer, you will be responsible for the wellbeing of your maid. Singaporean law stipulates that FDWs must live with their employers, and this naturally comes with a large set of responsibilities. The rules regarding eligibility are partly designed to ensure the safety and wellbeing of maids.

As such, the Ministry of Manpower (MOM) will take your mental capacity as well as your finances into account when you apply. The ministry does not publicly disclose how much you need to earn to qualify, but says the amount is based on the realistic total cost of hiring an FDW (including wages, the levy payable to the government, and costs associated with maids' wellbeing – such as food and medical expenses).

In most cases, hiring an FDW costs more than S$1,000 each month, not to mention upfront employment and visa costs. Monthly costs consist of wages (a HelperChoice study found that the average maid's wage in Singapore is just shy of $600), a monthly levy payable to the government ($300 unless you qualify for the concessionary rate of $60), medical and personal accident insurance (more than $200), and food.

Joint Income Scheme and Sponsorship Scheme
The ministry does, however, consider the combined salaries of married couples when considering their eligibility to hire. Alternatively, you can combine your salary with one family member who lives with you via the Joint Income Scheme, or you can apply under the Sponsorship Scheme, which enables you to be an employer based on the income of either one or two sponsoring relatives given that you are over 60 and not drawing a monthly salary.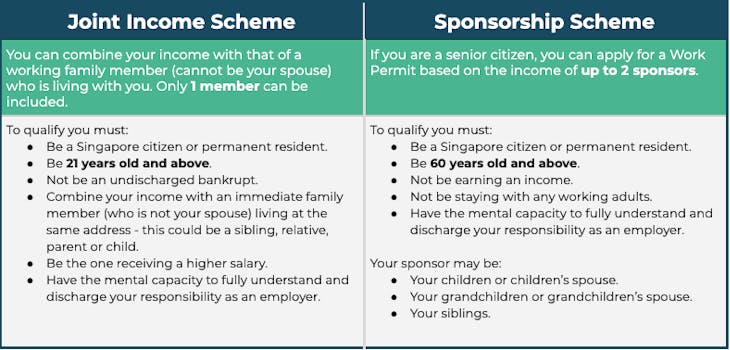 First-time employer
If you are hiring for the first time, you must attend the Employer Orientation Programme (EOP), which is a 3-hour programme that will help you understand your role and responsibilities as an employer of an FDW The programme will cost you S$30 to S$34.50 for attending in the classroom or S$46 to take the course online. The course needs to be taken at least 2 working days before submitting a Work Permit application. You may as well refer to this pre-hiring checklist before deciding whether to hire an FDW.
Hiring a second foreign domestic worker
The Ministry will consider applications for a second FDW if you have caregiving needs, such as having 2 or more children below the age of 18 or a parent or parent-in-law over 60 years old living with you. You will be assessed on your financial capacity to hire and maintain more than one foreign domestic worker in acceptable accommodation.
Loss of eligibility
It is possible to lose your eligibility to hire an FDW: if you violate employment laws or if you hire and fire too many domestic workers within a short period of time.

MOM may remove employers' eligibility if they infringe employment rules and regulations under the Employment of Foreign Manpower Act.
The infringements include the following:
Abusing of your FDW.
Exploiting or ill-treating your maid e.g. not paying her salary or not providing her with adequate food and rest.
Instructing your maid to perform tasks which compromise her safety and health.
Illegal employing or deploying your maid.
Employers who have made more than 3 applications for maids' work permits within a year will need to attend a classroom EOP or attend an interview with a ministry officer before they can process your application.
Penalties
Hiring an FDW without a valid Work Permit will result in a fine between S$5,000 and S$30,000, or imprisonment for up to 1 year, or both. For subsequent convictions, offenders face mandatory imprisonment.

Illegally deploying an FDW will result in a fine of up to $10,000. Offenders may also be banned from employing foreign domestic maids.

Alternatives to hiring FDW
If you do not qualify to hire an FDW, there may be alternatives available to you. In many cases, you can consider legal part-time work, where a maid will come to your house on one or several days a week to do chores such as cleaning and washing. This suffices for many employers, especially those without small children or elderly family members.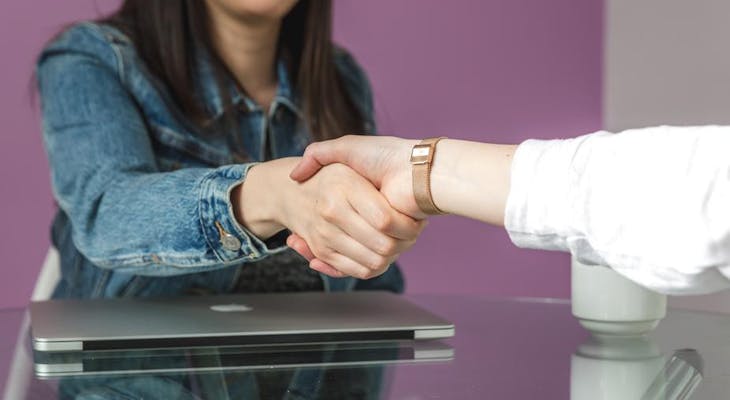 The eligibility of your foreign domestic worker
After considering your own eligibility, you will also need to make sure that your preferred candidate is eligible to work as a domestic helper in Singapore.

Maids in Singapore must be female and between 23 and 50 years old when the application is made. For those aged 50 and above, their work permits can only be renewed until they reach 60 years old. The Singaporean government only approves work permits for maids from the Philippines, Indonesia, Malaysia, Bangladesh, India, Sri Lanka, Thailand, Hong Kong, Myanmar, South Korea, and Taiwan.

Domestic helpers also need to have at least 8 years' formal education and must have proof thereof. The recognized certifications of different countries can be found in this list.

Please refer to here for more details: Requirements To Work As A Domestic Helper

Furthermore, the maid must:
Be employed at your home address as registered on your NRIC.
Attend the Settling-In Programme if she is working as an FDW for the first time. MOM will let you know in the approval letter if your maid needs to attend the SIP.
Not be related to the employer.
Not be in Singapore during the application for the Work Permit. She should arrive only after you receive the in-principle approval and buy a $5,000 security bond. (This rule does not apply to Malaysian workers.)
Transfer Hire
One way to ensure that your candidate is eligible to work in Singapore is to employ someone who is already working in the country. In this case, you would undertake a transfer hire.

This also allows you to check the maid's credentials with the Ministry of Manpower or with her current employer. If the maid can be transferred, you can also interview her face-to-face in Singapore to see how she interacts with your children, what recipes she cooks, and so on.
You might also be interested in: