Differences Between Domestic Helper Release Letter, Termination Letter and Reference Letter
Differences Between Domestic Helper Release Letter, Termination Letter and Reference Letter
There are several cases which could lead to the end of your helper's contract: either you or your domestic helper decided to terminate the contract ahead of time, or one of you decided not to renew it. Depending on the different cases, there are legal requirements and "nice-to-have".
Drafting a termination letter for domestic helper
If you or your domestic helper decided to terminate the contract ahead of time, you legally need to draw up a termination letter where you state the new date of ending her employment and the reason(s). If you or your domestic helper decided not to renew the employment contract after the 2-year period, you don't have to sign and send a termination letter but you may want to sign a release letter.

In this letter, you have to include the number of your employment contract, the actual end date of the contract as well as all the final payments you gave to your domestic helper. You need to make a list to calculate the legal amounts you have to pay her. You can find here a sample domestic helper termination letter for employers. In case of dispute, you can ask a third-party to be present when both of you sign the termination letter.
Terminating (dismissing) a domestic helper
On the employer side in Hong Kong, the reasons stated can have different impacts:
If you terminate your domestic helper because you relocate to another country, because you have financial issues or because of the death of a family member the domestic worker takes care of: in this case, your domestic helper will very likely to be treated as a "finished contract" and does not have to go back to her home country before finding a new employer.
If you terminate your domestic helper for other reasons (e.g. incompatibility of lifestyles, etc.) then your domestic worker has to go back to her home country before finding a new employer.
Breaking contract (domestic helper resigns)
If the domestic helper wants to break her contract, she can also state the reason in the letter but it is optional. Take a look at this sample termination letter for domestic helpers who are breaking their contract.
Settle the outstanding payments
We recommend to the employer that you ask your domestic helper to sign a "receipt for final payments" in which you have listed all the types of payments you gave her and their amount (annual leave, salaries…).

In Hong Kong, you have to inform the Immigration Department of this change in employment within 7 days of the contract termination date – you can also notify it up to 4 weeks before the contract termination date.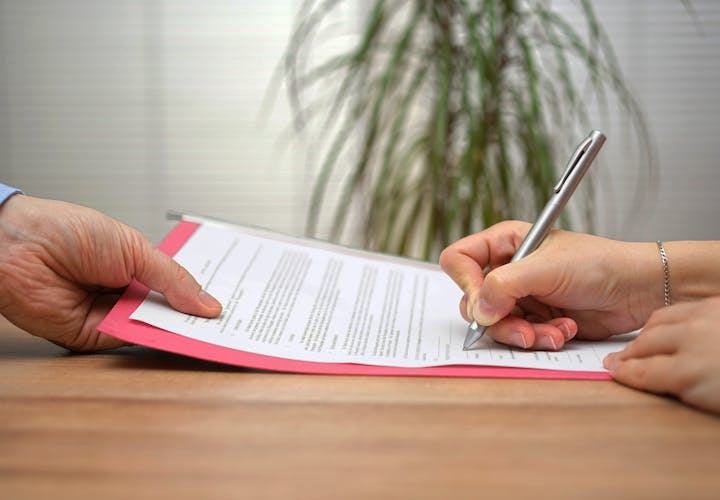 Drafting a domestic helper release letter
A release letter, also known as an "acknowledgement letter", is a letter stating the end date of the employment and that you and your domestic helper have nothing outstanding, including annual leave, salaries, miscellaneous amounts, her air ticket home (or cash equivalent) etc.
Release letter for domestic helpers in Hong Kong
In Hong Kong, signing a release letter is not a legal requirement for employers and domestic helpers not renewing the 2-year contract. However, the domestic helper is required to present a release letter for new visa application if she works for a new employer. It is also good for the domestic helper to proof that she finishes her contract with you.

Sometimes the "release letter" in Hong Kong can be used as a synonym for the "termination letter" in case of terminated or broken contract.
Release letter for domestic helpers in Singapore and the Middle East
Contrary to Hong Kong, domestic helpers Singapore or Middle Eastern countries are required to obtain a release letter if they want to get a new employer. In Singapore, the release letter is also called "consent to transfer a domestic worker".
Drafting a reference letter for the domestic helper
You know how difficult it is to find a good domestic helper as you have hired one so if you think that your helper would be a good fit for a new family, we encourage you to write a reference letter for the domestic helper. This letter can play an essential role to help your domestic worker find a new family easily.

In your reference letter, it is important to highlight your domestic helper's qualities and how good she is performing some specific tasks. A reference letter may contain detailed information about the duties of your domestic helper so that her next potential employers can get to read about the various working abilities of the domestic worker such as cooking, washing, skills for children care etc.

On HelperChoice, helpers can sign up for free online to find a new employer and directly ask for a reference for their previous employment experiences so that every employer looking for a helper can see which skills have been appreciated.
Sample reference letter
You can find below some examples of reference domestic helpers on HelperChoice received and to get inspired.
Sample wrote by Louisa:
"Racquel is honest, hardworking and reliable. She speaks good English, has a cheerful, kind disposition and will ask questions if she isn't sure of my instructions. She has done a great job looking after me, my two dogs and cat over the last 10 months. My company is unexpectedly relocating me back to the UK, which unfortunately means Racquel is looking for another job. Racquel can cook the recipes I provide and is good at following all my dietary requirements. She can be trusted with grocery shopping and running errands and keeps my flat clean. She walks the dogs every day, takes my pets to the vet when needed and follows the vet's instructions with medication. I travel a lot for work so it is important for me to have a helper I can rely on and trust when I'm away, I know I can count on Racquel and I would not hesitate to recommend her to any new employer. I am happy to be contacted by email or phone for further references."
Sample wrote by Jose:
"Arcelia is the best helper any family would dream of. She is an outstanding person, trustworthy, family-oriented, polite, amazing with kids and really an amazing soul. We love her as a member of our family. She worked for us for more than 10 years and we really wish to have her back working for us in the near future. Please do not hesitate to contact us in case of any need."
Sample wrote by Raine:
"Juvelyn started working as a domestic worker at my home in late August of 2014. She is valuable to me not only where household chores are concerned but with my child too. Due to her continuous efforts, my house always remained clean, clothes were neatly hung, ironed or folded and my baby is well fed. There is no praise bigger than this. Juvelyn has lived with my family since 2014 and had never given me any chance to object to her behaviour. Once again, I recommend her for any position that involves household chores. If there is anything that you would like to discuss with me about Juvelyn's work record, I can be reached. I wish her best of luck in her future endeavours."
You might also be interested in: