Essential Steps to Domestic Helper Visa Processing in Hong Kong
Essential Steps to Domestic Helper Visa Processing in Hong Kong
In Hong Kong, the domestic helper visa processing involves 2 steps: employment contract notarization at the consulate and visa application at the Hong Kong Immigration Department.

Applying for a domestic helper visa unassisted costs less than HK$1,000, including both the notarisation fees charged by embassies and the visa fees payable to the Immigration Department.

If you are a Filipino domestic helper, you may want to read: Hong Kong Visa Application for Filipino Domestic Helpers
Points to note before domestic helper visa application
The Immigration Department will start processing the employment visa application after they have received the notarized employment contract from the Philippine or Indonesian government. They will then check the visa application which takes generally 30 days or up to 2 months. Upon approval, the domestic helper will receive an employment visa label that she will have to stick into her travel document.

If the domestic helper you are hiring is a finished contract, currently located in Hong Kong and originally from the Philippines, or if you are renewing your Filipino helper's contract, you can submit the documents to the Immigration Department by yourself without using an employment agency. If not, you must use an agency for the domestic worker work visa application.
Find an ethical employment agency
There are many employment agencies which can help you with the paperwork, but some of them charge domestic helpers high fees. Agencies in Hong Kong are only allowed to charge maximum 10% of the worker's first-month salary as placement fee. As such, if you have to go through an employment agency for visa processing, find one that does not overcharge domestic helpers.

You can contact us to get a quotation from HelperChoice's ethical partner agencies for processing here.
Hiring a helper with terminated/break contract, or overseas hire
If you plan to hire a domestic helper directly from her home country to Hong Kong, or a helper with a terminated/break contract, there are extra steps at the helper's home country:

Before the processing starts, the domestic helper will have to take a medical check-up at her home country to make sure she is fit to work. The employment agency normally will move forward only after the helper passes the medical check-up.

In addition, if the domestic helper you are hiring is a first-timer, that is, without any experience working abroad as a domestic helper, she will have to undergo mandatory training to fulfill her home country's requirement for working abroad. The worker is responsible for shouldering the cost of this mandatory training.
Steps to domestic helper visa application for finished contract
Step 1. Sign the employment contracts
First, you and your new employee need to sign 4 identical copies of the Immigration Department's standard employment contract (SEC) for foreign domestic helpers. One copy is for you, one is for your domestic helper, one is for your domestic helper's embassy to notarise, and one is for the Immigration Department. Copies of the SEC are readily available on the 2nd floor of Wan Chai Immigration Tower.
Step 2. Have the contract notarised at Consulate
Either you or your domestic helper is required to visit the Philippine Overseas Labor Office (POLO) (18/F, Mass Mutual Building, 33 Lockhart Road, Wanchai) to apply for contract notarisation, provided that your domestic helper's current contract expires within a month.
You will need to provide the following documents:
Completed OFW Information Sheet provided by POLO
Original copies of all 4 newly signed employment contract
The original copy of the domestic helper's current contract
A photocopy of the domestic helper's passport
A photocopy of the domestic helper's latest working visa
A photocopy of the domestic helper's Hong Kong ID card
A photocopy of your Hong Kong ID card
A copy of the domestic helper's Immigration appointment letter (if they were dismissed for one of the reasons that qualifies them for 'finished contract' status)
Notarisation costs HK$476 in total – consisting of the mandatory Overseas Workers Welfare Administration (OWWA) membership, a verification fee, and an authentication fee payable to the Philippine Consulate General on collection.

It usually takes 6 working days for contracts to be notarised. Make sure that you keep the receipt issued by POLO as you will need to present this to the Philippine Consulate General when fetching the approved contract. Once you have the notarised contract, your domestic helper can apply for his or her visa.
Step 3. Submit the domestic helper visa application to the Immigration Department
Your domestic helper must complete the Immigration Department's 'Visa/Extension of Stay Application Form for Domestic Helper from Abroad' (ID998A) form, and you need to complete the 'Application for Employment of Domestic Helper from Abroad' (ID998B) form. Your domestic helper will need to submit these documents in person, within 4 weeks of the expiry date of their contract, at the Department's dedicated Foreign Domestic Helper section. Your domestic helper will need to submit the following documents:
Completed the ID998A form, with a photo affixed
Completed ID998B form
The notarised standard employment contract
Your domestic helper's passport, together with a photocopy of the pages that show their personal particulars, photo, passport expiration date, most recent visa label, and most recent landing slip or extension of stay label
A photocopy of your domestic helper's Hong Kong ID card
A photocopy of your Hong Kong ID card, as well as a photocopy of the relevant passport pages if you are a non-permanent resident
A photocopy of a document showing proof that you earn at least $15,000 per month or have assets that allow you to support your domestic helper throughout the contract period
A photocopy of a document showing proof of your residential address
A release letter from your domestic helper's current employer that indicates their final workday
On submission of all the necessary documents, your domestic helper will be issued with a white card with an application number – you can quote this reference number if you query the status of the application.

Step 4. After submitting application
Should the visa be approved (you will be informed by post), you will need to pay HK$230 upon collection. Visas usually take 4-6 weeks to be processed. Note that during the visa processing, your employee is not allowed to start working for you. For more information on the hiring process, read the Immigration Department's guidebook.

You can inquire about your application status online here or through the 24-hour hotline at +852 3160 8663.

You, as the employer, might be asked to have an interview with the Immigration Department.

If the Immigration Department has finished assessing your application, you will be notified by letter whether the visa application is successful. If it is successful, the worker should bring along her travel document and the letter to collect the visa label at the Foreign Domestic Helpers Section. The visa fee should be paid while you pick up the visa label, and payable to the HKSAR Government.
Domestic helper visa processing time
Generally speaking, 90% of the employment visa applications are processed within 6 weeks. Sometimes the application can even be finished within a month depending on the period and the number of applications that the Immigration Department has received at the same time. Remember, the domestic helper cannot start working for you until she obtains a new working visa.

If your hired domestic helper is currently in Hong Kong, the visa application can take as little time as 14 to 28 days, but if she is in her home country it may take up to 2 months for immigration to process the visa.

In some cases, the application can be delayed. For example, if the contract is not filled out properly or if the Immigration officers have further questions to ask. In this case, it can take up to a few months before the visa application is processed.

For domestic workers who are renewing their contract with the same employer, they should submit their visa application within 8 weeks prior to the expiry of their limit of stay. The visa will usually be issued on the same day of the application. For domestic workers who are changing employers, they should submit the application within 4 weeks prior to the expiry of the contract.

The queues at the Immigration Department can be rather long in the peak employment visa application period, usually in the summer. According to the suggestions made by the Immigration Department, you as an employer should either send your worker early, or submit applications for contract renewal online.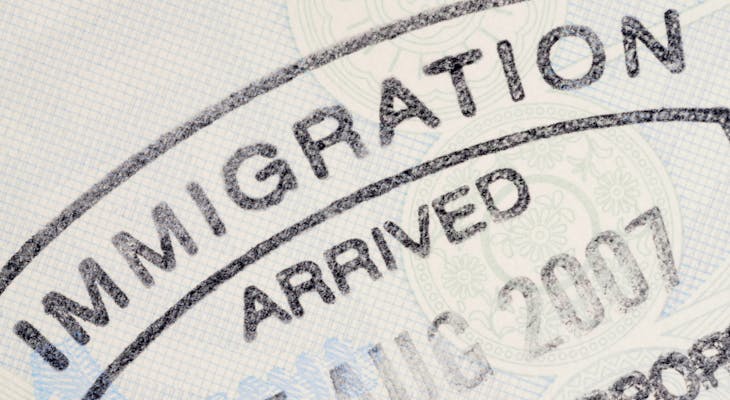 Domestic helper visa validity and period of stay
In the case of hiring a first-timer, upon arrival in Hong Kong, your domestic worker will have to clear immigration and she will receive a landing slip stating how long she is allowed to stay in Hong Kong. If the helper is working for a new employer, the limit of stay will be 2 years, unless her employment visa was issued with a one-year extension period. In this case, the limit of stay is specified on the landing slip and has to be followed.

If you are hiring a new helper, do check her employment visa and landing slip for accurate information on her condition of stay. Generally speaking, it's good to keep a copy of the landing slip for your reference.
If your domestic helper's passport expires
Also, note that your hired foreign helper needs to apply for a new visa label in case her passport expires before the expiry of her current visa. She will have to file another application for extension of stay with Immigration after she has received her new passport so that Immigration can issue a new visa to her.

Normally, the Hong Kong government has already taken this into consideration during the visa application of her current visa, and her working visa should expire 30 days before the expiry of her passport. She will have to apply for a new visa, 30 days before the expiry of her passport and after she has successfully received a new passport from her home government or Consulate.
Re-entry into Hong Kong
If your helper is taking leave to go back to her home or another foreign country, she is allowed to do this by law without the need to submit another employment visa application.

The valid limit of stay remains the same provided that the helper's labour status has not changed: you have not terminated her and she is coming back to work for you. If she is a Filipino national, she will have to apply for an Overseas Employment Certificate (OEC) with the Philippines Consulate before leaving the territory of Hong Kong, so that she can get on the plane back to Hong Kong.
The information provided is a guide for employers and we do not accept responsibility for any inaccuracies or outdated information. The rules set by the Immigration Department and sending countries are subject to change. Employers should check the department's website, and contact the relevant embassy, for the latest updates.
You might also be interested in: